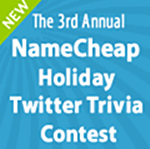 Do you want a chance to win free domains every hour?
Namecheap is hosting its third annual Holiday Twitter Trivia contest where they will be giving away $10.16 Namecheap credits to eight people every hour. These credits can be used to register domain names, buy WhoisGuard or save up for hosting or SSL certificates.
Not only that! Three trivia participants with the most correct answers will win either a Samsung Galaxy Tab or an Apple iPad at the end of the contest.
Just want to share that Chikabits (me) was one of the winners today for question # 4151. Here's the snapshot of the results:
[box type="info"]Updates: This contest already ended.[/box]