This post brought to you by Revlon. All opinions are 100% mine.
Recently, I received a Revlon Expression Experiment kit and it's comprised of a nail polish and a lipgloss.
I'm not really fond of blue so I was a bit disappointed when I saw the Indigo Night Revlon nail polish from the kit but I tried it anyway.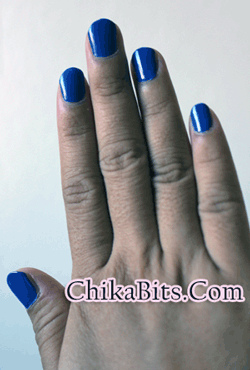 Despite my initial disappointment with the color, I have to say that I love this Revlon Colorstay longwear nail enamel. It glides easily when I applied it (without the bubbles too!), has a gel-like shine to it and lasts long too!
The Revlon Colorburst lipgloss that I received was in "Fire" color. Just like the Indigo Night color of the nail polish, at first I was a bit hesitant to use the Fire colored lipgloss because it's not the usual color that I use but, hey, it was light on the lips and shinier than the other lipgloss that I have had. I have to give the product a thumbs up!
I've been using Revlon lipstick for years now and I like the quality of the two other products that Revlon sent me as well. By offering products in various colors – conservative, neutral and bold colors – like the Indigo Night enamel and Fire lipgloss that I received, they have been empowering women to express themselves as individuals.
If you're also into self-expression, why not join the movement of self-expression with the Revlon Expression Experiment Facebook application? Or you can just leave a comment on this post and share your own expressions here. Can you do it now? I'll be waiting!