This post brought to you by Bahama Breeze. All opinions are 100% mine.
Summer is already here. Here in Las Vegas, it means 100+ temperature during the day. With such scorching heat, it is no wonder why one yearns for the beach.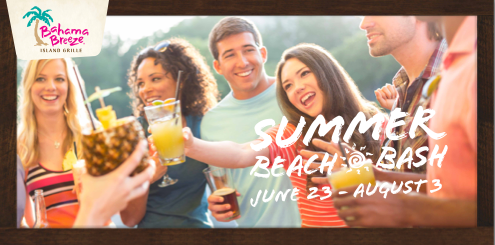 It is a good thing that there's an event from June 23 to August 3 that lets one experience the fun of summer beach even in a desert like Nevada. I am referring to the Bahama Breeze Summer Beach Bash.
Have you heard of the Bahama Breeze Summer Beach Bash? Well, it is Bahama Breeze Island Grille's brand new event. It will feature live music that will bring the sounds of the islands to the patio. You can choose your fruit, your rum, and watch their bartenders muddle the perfect summer cocktail. Speaking of cocktail, they will also be launching their new signature cocktail, the Bahama Breeze Ultimate Pineapple; it is a must-have frozen drink of the summer served in a fresh cut pineapple!
When you attend the Summer Beach Bash, you should try to participate in their "Instagram Selfie Contest." All you have to do is share a creative selfie of yourself while enjoying your time at the Summer Beach Bash and use the hashtag #MyBBSelfie when you post your picture. This super easy step will automatically give you a chance to win a $25 Bahama Breeze gift card! Imagine what extra fun $25 will bring?
Visit one of the 36 Bahama Breeze restaurants nationwide to experience Summer Beach Bash between June 23 to August 3. It is the best way to learn why they say, "Bahama Breeze is the summer destination for good times."
Anyway, before I end, I just want to say (to those who may not be aware of this yet) that Bahama Breeze is the restaurant that prides itself with its unique combination of Caribbean-inspired food, handcrafted tropical drinks, vibrant atmosphere and people happy to be of service. Its first branch opened in Orlando, FL in 1996 and now has 36 branches nationally.