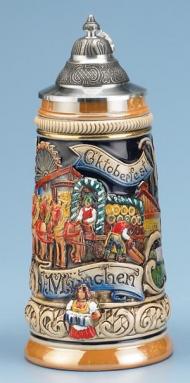 Women usually find it hard to look for a gift for men. Oftentimes they'll come up with some ties, shirts, wallets or some techno gadgets as gifts. If you're running out of ideas, how about hearing this suggestion? Try beer stein or some beer glassware, or maybe some musical instruments from Musiciansfriend online.
Your gift's recipient doesn't need to be a hardcore drinker (translate: alcoholic drunkard) to enjoy an ornamental or collectible beer stein. Oh well, they could probably use it if they really want to but these traditional mugs or beer glassware can also serve as some souvenir or probably a collectible.  If women enjoy collecting some figurines and chinaware, men will love beer glassware because projects a macho image.
There are a lot of beer stein designs and varieties. Some have simple designs, others have special designs. A few are colored glasses, can be heritage beer glassware, spors and hobbies glassware or even wildlife beer glassware. I'm sure you'll find something that will fit the character of any man you'll give it too.
Note: can be given to women too! Just pick the right designs.