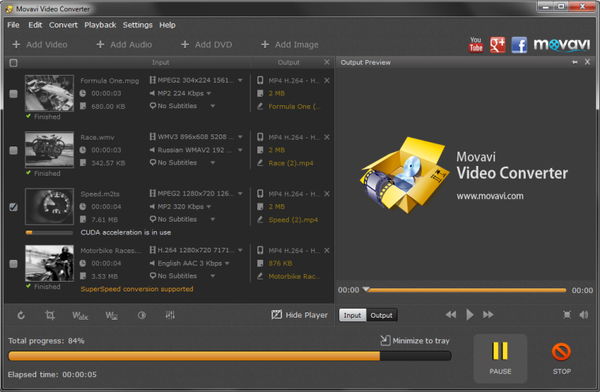 If you have several fashion videos stored in MOV then you may very well have issues when you attempt to play them on Windows PCs. As you may or may not be aware, MOV is a proprietary format used by Apple on its Macs and other devices – and although PCs can play it too using QuickTime or some other compatible media player, they do not have the capability to do so natively.
Rather than having issues sharing MOV files that can't be played it would be a good idea to convert them to WMV instead. In many ways WMV is the polar opposite of MOV and is designed for Windows so you won't have to worry about its compatibility. Of course to convert your MOV to WMV you'll need a video converter, and the easiest and fastest is definitely the Movavi Video Converter.
All that you need to do when you want to convert your MOV fashion videos to WMV is:
Add the fashion videos that you want to convert to the Movavi Video Converter by clicking on the 'Add Video' button and selecting them.
Expand the 'Convert to' dropdown menu and navigate to the 'Video and Audio' section before choosing 'WMV'.
Change the 'Destination' folder if you'd like to save it somewhere else.
Click 'Convert' to start the conversion process.
It is worth noting that should you want to convert your MOV fashion videos to any other format all you need to do is select it in the 'Convert to' dropdown menu. If you like you could use the hundreds of presets available there to automatically optimize your video for a specific device or platform too.
Before you exit the software you may also want to consider making use of its other features to cut and combine video segments, enhance the video quality, insert captions or watermarks, create animated GIFs, extract audio from video, as well as crop or rotate the video.
With the sheer scope of options available to you when you use the Movavi Video Converter, you should be able to not just convert your fashion videos from MOV to WMV but also tweak and improve them if necessary. It won't take you long to master how to do so, and before you know it you'll be very comfortable and able to edit your videos as you see fit.