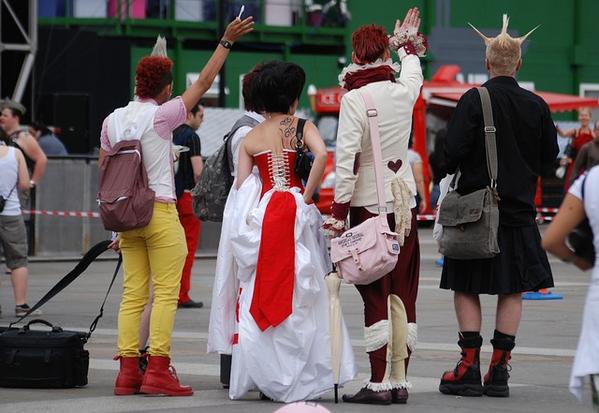 Even if you are not a musician or an artist you might just like the vibe of punk clothing. Although many variations on the punk style exist, you need some basics to look punk.
Decide on a Style
The whole punk craze was a rebellion against the established order. Nevertheless, there are definite types and styles.
Pop Punk

It is a rebel but with a twist of fun. Show your style by wearing a stud belt, a band t-shirts, wristbands, skinny jeans or skater skirts.

Glam Punk

You like neon, spandex, animal and psychedelic prints. Pair up a pair of fishnets with combat boots. Add an armful of sparkly bangles and you are good to go.

Goth

Black is your only color in clothing, hair and makeup. Outfits include super skinny jeans, dog collars, spikes, chains and piercings.
Do It Yourself Style
Gather up scissors, bleach and markers to transform your clothes. Take a trip to the local hardware store for spray paint, chains, nuts and bolts and wire to create unique accessories. Not handy with do-it-yourself? Check out a cool website like http://www.angryyoungandpoor.com that specializes in punk clothing and accessories including bondage pants, band t-shirts, shoes, boots, and much more. Whether you are a guy or a girl, you can get either a complete look or the right accessory.
Go Daring with Hair
The key is to be anti-everything. So if blonde is in, go midnight blue or totally white. Go crazy with color and even create designs with patches of color. Shave your head or half of it. Support your cause or attack one by shaving a symbol in your hair.
Make Up
Go for dark and extreme. Heavy eyeliner is popular for guys and girls. Lipstick can be bright or super dark to black. Nails are a great way to show your punk style. For guys, this means painting your nails black and perhaps spelling out something on them.
Jewelry
One earring is popular for guys. Girls tend to like the look of multiple holes for earrings. Nose and tongue rings are popular as are safety pins used in piercings.
Final Tips
Don't try too hard, you will look like a poser. Ease into the punk style. Choose one element like hair or makeup and add accessories and clothing in stages. This looks more natural and not like you are just dressing up for the day. Finally, enjoy your freedom of expression and treasure the right to be different.